10 Best Camper & RV Rentals Oregon
Oregon RV rentals are developed to let you enjoy the convenience of your own house while still providing you easy access to camping area services and also distance to all type of interesting outdoor locations.
Renting a travel trailer
can be fairly the deal, particularly when you consider the issues and also costs connected with air travel and also the hassle of checking in and also out of motels. And also unlike a motel, your RV rental functions all the comforts any place you decide to stop.
Best RV Rentals Oregon
2005 Fleetwood Bounder

Price: 205$ per night
Pet Friendly? No
Length: 35 feet
Sleeps: 6
Need a well maintained and trusted RV?
Want the comforts of home while camping?
Look no further!
Here is a look inside: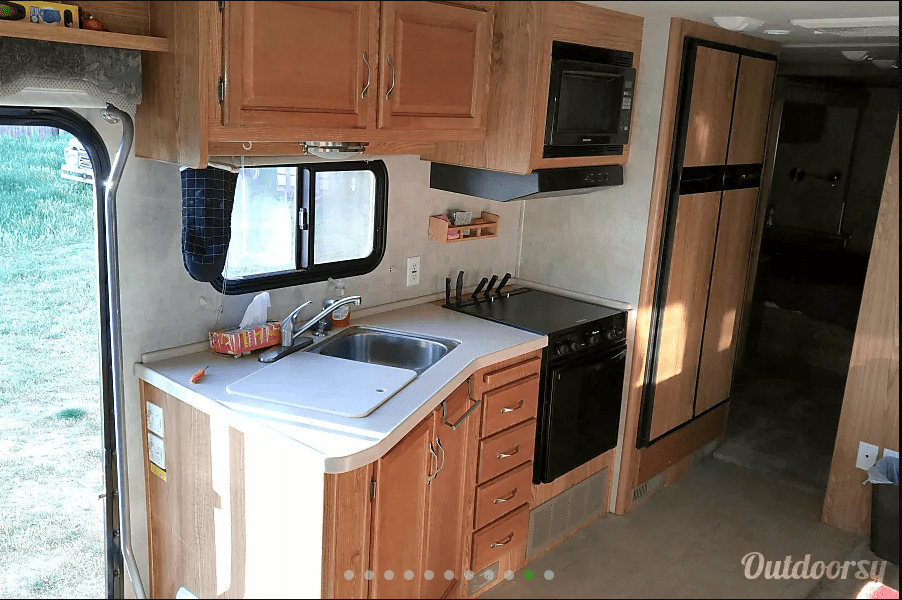 This machine is the perfect escape from the everyday fast paced lifestyle we all live in.
The Fleetwood Bounder comes with almost everything you could imagine with an RV.
Don't just take our word for it.
Here is what one customer said about this camper:
We cannot day enough good things about Joyce and the RV. The RV is well stocked with everything you could need like cozy blankets, camp chairs, dishes, and even toiletries. It ran great and was very comfortable to sleep in. The AC and fridge kept everything very cold during the hot summer and had very little gas and propane when we were not hooked up. Joyce as a host went above and beyond for us. Her and her husband were laid back, organized, fast to respond to any questions, and extremely friendly and pleasant to work with. We wouldn't hesitate to rent from them again!
2009 Four Winds 5000 Chateau Diesel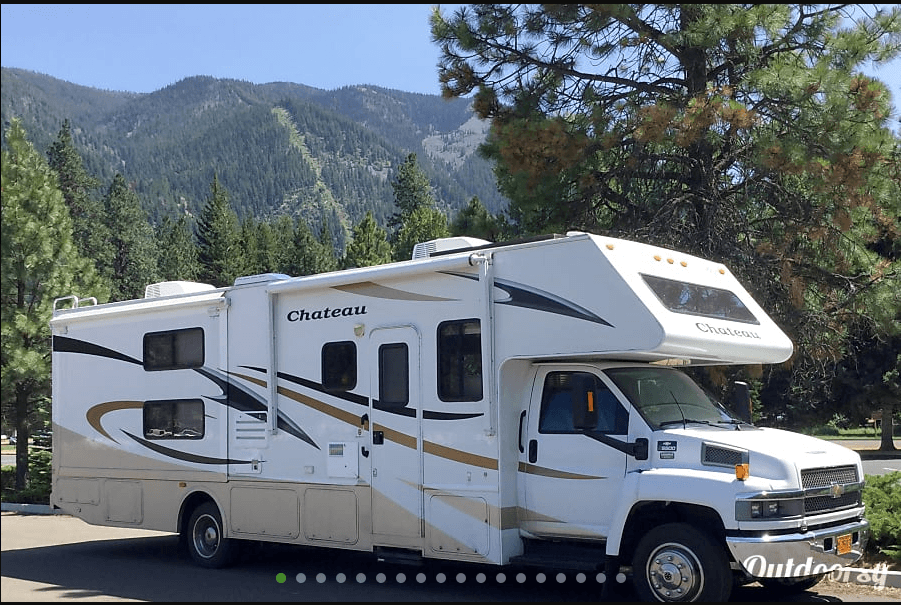 Price: 249$ per night
Pet Friendly? No
Length: 34 feet
Sleeps: 8
Here is a long lasting RV perfect for any family big or small!
Diesel!
Here is a look at the interior: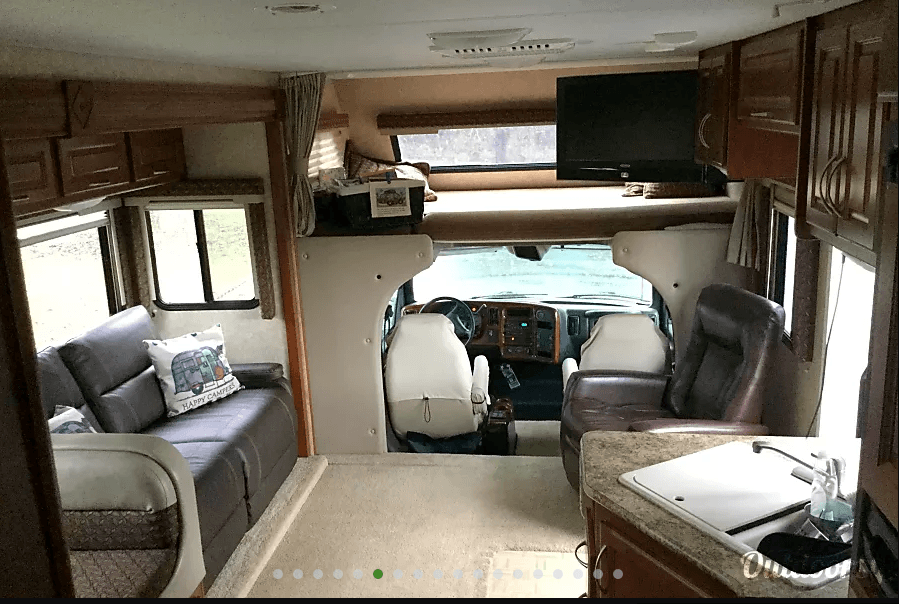 10K towing capacity means you can bring along boats, ATV's, and much much more!
New Dish satellite system!
Locking bike racks available for rental.
Here is what one customer said about this camper:
The RV rental experience I had with Shaun and Tiff could not have gone any better. From the beginning, the level of communication was outstanding. My questions were answered immediately and with detail. I found the RV was clean, spacious and operated flawlessly. The RV was stocked with all the essentials. Setup was quick and easy. Pickup and drop off of the RV was convenient. Our party of 6 had a great adventure in Shaun and Tiff's RV and would highly recommend it. Jim
Maupin: Vanagon Camper

Price: 185$ per night
Pet Friendly? Yes
Length: 15 feet
Sleeps: 4
Maupin is a very old and unique camper that puts a new spice to life.
This camper is road trip ready!
Here is a look at the interior: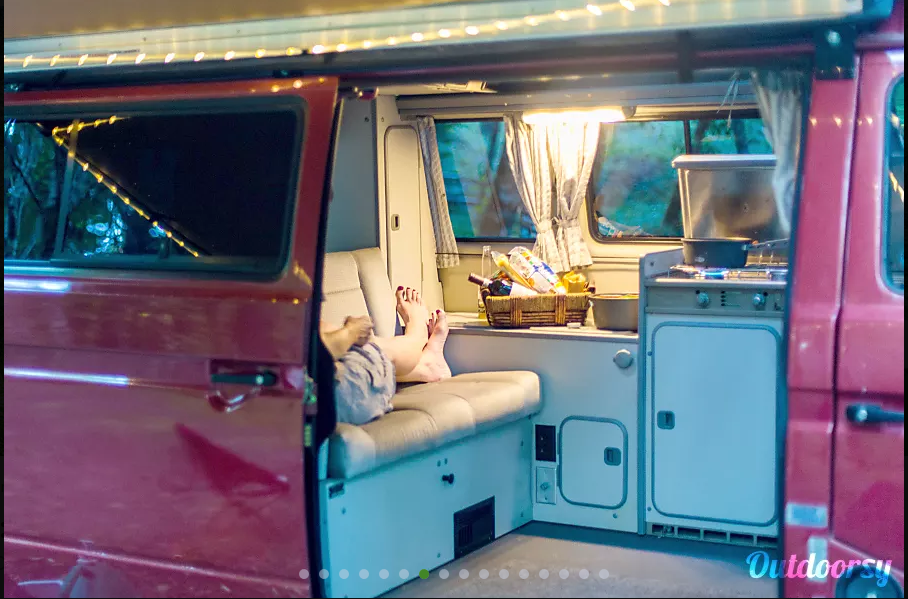 Brand new speakers and Bluetooth connection!
Pet and festival friendly means you can take anyone, anywhere!
Here is what one customer said about this camper:
Had so much fun with this little van! No issues on the road to Hana or to up to the Haleakala crater, very good on gas. The Maui guidebook was a great resource and the guest book too. It was enough space for myself, doubled up on sleeping pads and blankets/ sleeping bags were warm enough for a night at Hosmer campground. Thanks to all the drivers before who left bits and pieces like sunscreen, stove, paper towels etc. It all came very handy. And thank you to Dennis and Cassandra!
2018 Happier Camper HC

Price: 99$ per night
Pet Friendly? Yes
Length: 13 feet
Sleeps: 2
This brand new camper is the perfect fit for young adventuring couples and their dogs!
Easy to drive and can go almost anywhere!
Here is a look inside: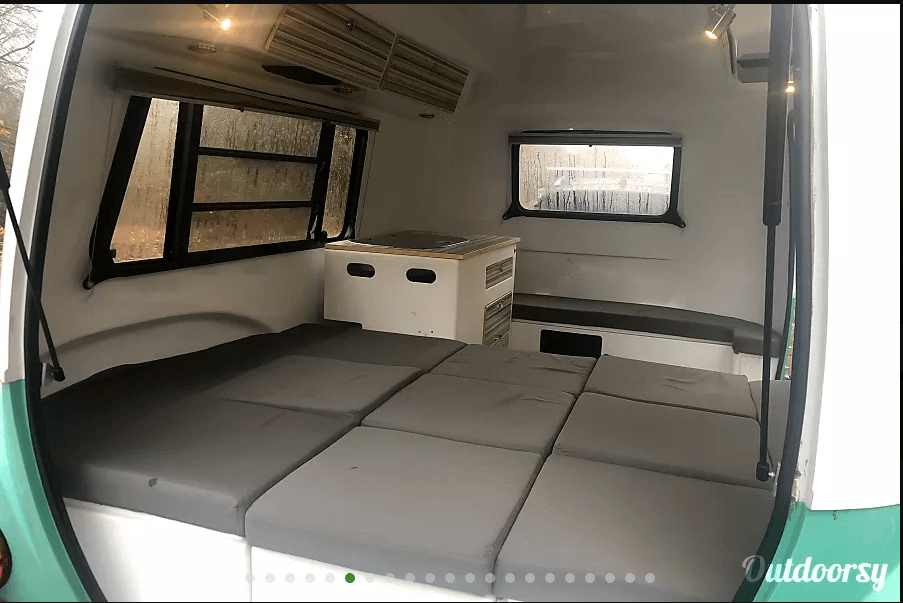 With its sleek and small design, this trailer is extremely easy to haul with most vehicles.
Perfect for young couples or friends who love to enjoy the outdoors without the hum and drum of daily life.
Here is what one customer said about this camper:
We were interested in knowing how this trailer would tow with our Subaru Outback. It was great! Hardly knew it was there once you got up to speed. The process of renting was smooth and enjoyable dealing with Mike and Joe. We appreciate their patience with us, the camper cleanliness and support.
2015 Airstream International Serenity

Price: 140$ per night
Pet Friendly? No
Length: 19 feet
Sleeps: 4
Here is a classic look on a travel trailer that is the perfect size for the whole family.
Great pricing and reviews means this trailer is tried and tested!
Here's a look inside: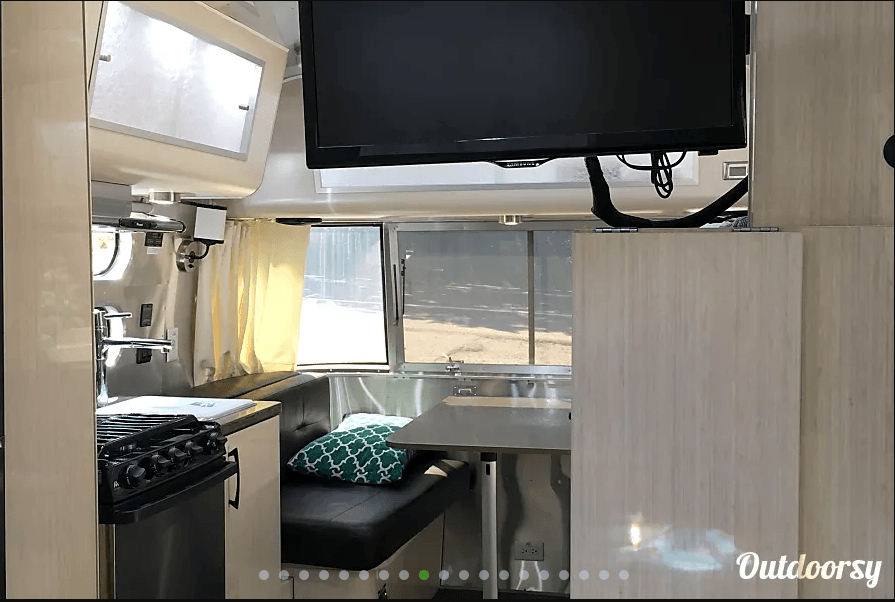 Fully stocked kitchenette and other great add ons leads to a great vacation.
Wonderful owners who will help you with the renting process 100% of the way!
Here is what one customer said about this camper:
Being able to use this beautiful Airstream trailer made it possible for me to take my 86 year old mom camping and make some great memories! It had absolutely everything we needed. David even towed it to our campsite, a real plus since I only have a small car. He was very responsive to all our requests. I would definitely rent this trailer again!
Oregon RV Rental Tips
When looking for inland or lakeside Recreational Vehicle camping areas, consider whether or not they have hookups along with showers, fire pits as well as outing tables. If you wish to establish a tent at your RV website, make sure the camping site permits it which the sites allow sufficient to fit both. Likewise, think about whether the website is pull-through or back in, and also recognize the size of your Motor Home to guarantee you reserve the right size area.
Before you rent out a Motor Home, there are some things you ought to do, including figuring out the specific dates of your journey or getaway, making an online appointment with a trusted Motor Home rental firm, and also perhaps making a deposit or charge card hold amount for the rental.
RV camping supplies magnificent scenery, solitude, and fascinating background throughout the state. Public lands as well as private Recreational Vehicle parks as well as camping areas use a wide variety of camping centers from complete Motor Home connection camping areas to remote primitive camping (boondocking) areas throughout the U.S.A..
You can get free Motor Home outdoor camping place suggestions from the USFS (USDA Forest Solution) Ranger Districts. US Army Corps of Engineers (USACE) also has some totally free RV camping facilities. Boondocking and Camping has more info concerning just how to locate the best Recreational Vehicle outdoor camping sites on public lands.
Camping Bookings— Book your RV rental and campground ahead of time and also stay clear of wondering if you will certainly find a location to camp.
Oregon RV Parks Near You
Top RV Rental States
Types of RV Rentals