Best RV Rental Companies in the USA
When it comes to RV rentals, you want to choose a trusted company that could offer you great services at affordable prices. Recreational vehicle rental, or RV rental, means that you can basically rent trailers or motor vehicles to live in temporary.
Top Four RV Rental Companies in the United States
We have composed a list of the top four RV rental companies in the US and have listed some of the most important things to know about each company. There are two main types of rental companies; one type is corporations like El Monte RV and Cruise America, the other is from people posting their RV's up for rent through Outdoorsy or RVshare.
Now to figure out which route is the best option for your upcoming trip you have to consider multiple things.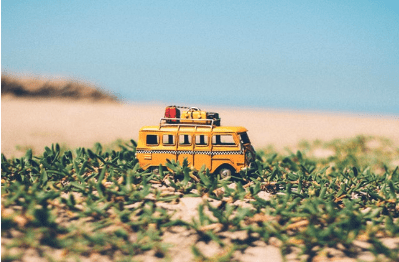 How long your trip is going to be
How many miles you will be driving
The amount of people you will be traveling with
Which States you are planning on traveling in
Are you bringing camping supplies (pots, pans, towels)
Of course those are only a few things to keep in mind. We have put together all the information that you need to know in order to make the best informed decision for your next adventure.
Remember to check to make sure that your insurance is going to cover your next adventure or not. Your auto insurance doesn't always cover driving an RV. Always ask your local insurance agent! Some rental companies provide insurance at no cost to you, others do not.
Before we dive into our favorite companies lets take a look at the different types of RVs that are available:
RELATED: Renting An RV – The Most FAQs, Tips, and Hacks
The RV class differences.
Class A motorhomes: these are the largest and generally the most luxurious, they can sleep up to 10 people. The kitchens and bathrooms are larger, and some can be up to 45 feet long. They get roughly between 8 to 10 miles per gallon. Definitely not the best choice if you aren't wanting to spend a lot on gasoline.
Class B motorhomes: they are the smallest out of the three classes and get the best gas mileage. They are usually meant for smaller groups of people. Something to definitely keep in mind is that the toilet and shower share the same space, so there isn't much room.
Class C Motorhomes: are in between the class A and B motorhomes. They usually have an attached cab and most have an overhand that is over the cab, generally used for sleeping quarters or storage. The gas mileage is definitely better than the class A but not as good as class B.
Now that we have a grasp on the type of motorhomes that are available lets go over each of our favorite companies.
1. Outdoorsy

Outdoorsy is our top recommended RV rental company and available all over the country, more common in bigger cities and very similar to AirBNB. Your neighbors or other people you know could be listing their motorhomes! One of the first things the company mentioned is that they provide insurance protection, DMV checks on all drivers, 24/7 rental roadside assistance and a dedicated support team.
Why rent from Outdoorsy?
Outdoorsy offers up to $1 million liability in the US, $500,000 property damage,

Trip cancellation coverage

Rental Options Across Many Sates
24/7 RV Rental Roadside Assistance
Class A,B,C, Travel Trailer and Camper Rentals
Search Online by Pet Friendly and other options
On Outdoorsy you will find class A, B, C motorhomes, travel trailers and even camper vans unlike other rental companies.
If you are wanting to rent a motorhome for a one way adventure then this is not going to be the best fit for you. So keep that in mind when looking for an RV. If you are wanting an RV for the Burning Man Festival, there are people who specifically list their RV for that.
Average Pricing
Class A: $175 to $300 per night.
Class B: $100 to $200 per night.
Class C: $150 to $200 per night.
Travel Trailer: $50 to $150 per night.
Fifth Wheel: $60 to $175 per night.
Pop Up Trailer: $50 to $125 per night.
They have received 5+ star review on average 93% of the time. Feel free to check out their website by clicking here.
With the better business Bureau Outdoorsy has received either an A or an A+ at all of their locations.

Looking to learn more? Read why we recommend Outdoorsy in our full review here.


2. RV Share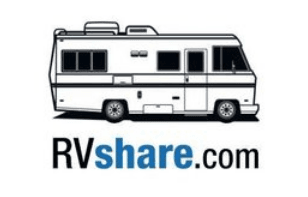 Being very similar to Outdoorsy RVshare has motorhomes of all different sizes, travel trailers and pet friendly options.
RVshare has a free trip planner where renters are able to answer a handful of questions and the system is set up to generate the best rental options for you. You are also able to browse outside of the trip planner feature if you choose to do so.
Why Rent from RVShare?
They offer 24/7 roadside assistance.

Many Sizes Available
Online Trip Planner
Many locations offered
5% Cash-Back Loyalty Program
Some owners will even offer to have the RV delivered to you at different destinations. There is an additional charge associated with this.
Depending on the owner you rent through towels, blankets, pots and pans are included. Make sure to either ask or read through the listing thoroughly so as to not miss anything. Some owners also offer unlimited mileage, while others charge. It all depends on the post and the owner of the vehicle.
Average Pricing
Class A: $175 to $300 per night.
Class B: $100 to $200 per night.
Class C: $150 to $200 per night.
Travel Trailer: $50 to $150 per night.
Fifth Wheel: $60 to $175 per night.
Pop Up Trailer: $50 to $125 per night.
RV share also offers payment protection and 5% rewards on cash back.
On the Better Business Bureau the RVshare location in Austin Texas received an A+ rating.
There is always a security deposit placed on bookings it places a 'hold' on your account for the amount of the security deposit. After your trip you will be receiving an email in regards to the security deposit stating whether or not you will be getting it back.
Very similar to renting an apartment RVshare requires that renters fill out and complete a departure form prior to taking the RV. This form goes over everything about the RV and what kind of condition it is so that both parties can agree and sign it. It goes over all the information you may need in order to operate the vehicle. This form makes it easier if there is any need to turn in a claim. It is available to see on your dashboard under the document section.
If you need further information click here to check out their website.
______
Drive safe and have a fantastic time on your next adventure with one of the four top RV rental companies in the United States.
3. Cruise America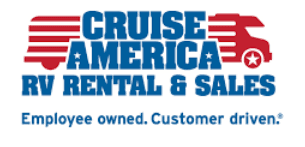 On Cruise America's website they offer a comprehensive look at all of their available vehicles and their maximum capacity for each. All of the available options through this company are class C motorhomes, plus there is an option of a truck camper rental.
Cruise America is employee-owned and the largest RV rental firm in America. They generally have very large advertisements on the side of all their RVs and campers.
Why Rent from Cruise America?
There are 132 locations throughout the United States, Canada and Alaska. ( And yes you can drive it from the US through Canada and make it to Alaska with no problems)

Allow pets in all of their available vehicles. So you are able to bring your fur child with you wherever you decide to go.
Offer free insurance so you are covered when you decide to rent with Cruise America.
If you are flying and want to rent an RV at your destination this company does not offer pick ups and drop offs at the airport. So make sure to either get a taxi (Uber) or book another form of transportation.
They have a little bit of a different per mile cost than our previous corporate company. Cruise America charges based on an estimate. They estimate for a round trip that the vehicle will be driven 100 miles each day and for a one way rental 250 miles a day. The set rate is $.35 per mile, at the end of your trip the company will refund you any extra mileage charges. If you drove the vehicle over the estimated amount there will be an additional charge at the end of trip.
Average Pricing
Class A: $175 to $300 per night.
Class B: $100 to $200 per night.
Class C: $150 to $200 per night.
Travel Trailer: $50 to $150 per night.
Fifth Wheel: $60 to $175 per night.
Pop Up Trailer: $50 to $125 per night.
There are additional packages that can be purchased if you do not want to pack pots, pans, blankets and all of those types of nesisities. A personal kit that includes blankets, pillows and towels which is $60 per person. They also have a vehicle provisioning kit that is $110 per vehicle that would include the camping supplies.
On their website they do not list potential prices for renting the RVs. But they do mention that the earlier you book the lower the price will be. So plan ahead! If you are interested in renting an RV with Cruise America give them a call at 1-800-671-8042. Or click here for more details about the company.
The Better Business Bureau gives the following Cruise America locations an A+.
Corporate Headquarters in Mesa, Arizona

Lanham, Maryland

Celina, Ohio

Citrus Heights, California

Seattle, Washington
4. El Monte RV

One of the biggest reasons to choose a corporate company over a privately owned RV is that it doesn't have to be a round trip. With El Monte RV and Cruise America you are able to pick your RV up in one location and turn it back in at a different location. Of course it all depends on what kind of trip that you are taking and what will work best for you!
One of our favorite reasons El Monte RV is part of our list is because they allow the whole family to tag along, that includes pets. Sometimes it is hard to find accommodations that will allow your fur child to tag along, with El Monte RV you do not have to worry about it. On their website they also include a list of pet friendly national parks, pet friendly family destinations and pet friendly RV camping resorts. You are able to bring your pet along without those pesky fees hotels add on. Always keep in mind to leave the RV the way you rented it, if your fur child decides to make a mess any company will add on a cleaning fee.
El Monte RV offers specials and deals throughout the year. It's always something to keep an eye on. If you have AAA they even offer a discount for that!
They charge $.32 – $.39 per mile depending on the size of the vehicle. OR you can prepay in blocks of 100 miles for $29 each.
There are too many variables when it comes to the cost of renting an RV that we are unable to provide an estimate. Some of the variables that the pricing depends on are: the dates of your trip, the size of the motorhome you are renting, if you are booking the trip last minute or in advance, and the rental location. Remember I did mention earlier that corporate companies offer random deals and discounts throughout the year, so make sure to keep your eyes out for that.
Rental Pricing
Class A: $200 to $300 per night.
Class B: Unavailable
Class C: $95 to $175 per night.
Travel Trailer: Unavailable
Fifth Wheel: Unavailable
Pop Up Trailer: Unavailable
Generally the same type of rules apply to rental cars and rental motorhomes when it comes to avoiding extra fees. Remember to return the vehicle with the same amount of gas in the tank as when you got it and empty the gray and black water tanks.
El Monte RV has locations scattered across the US including (Arizona, California, Colorado, Florida, Illinois, Kentucky, Maryland, Nevada, New Jersey, New York, Pennsylvania, Texas, Utah and Washington). This gives many people the option to fly and pick up their motorhome once they arrive at their destination of choice. They do have a pickup service, so make sure to check that out if you are flying.
Here is a link to El Monte RV if you have further questions or would like to book your next trip!
The Better Business Bureau has rated the following El Monte RV locations with an A+.
Orlando, Florida

Dublin, California

San Francisco, California

Ferndale, Washington
They have a link on their page that lists off every location with customer reviews.
In McKinney, Texas, which is very close to Dallas, they have received 4.2 stars.
Note: We realize that a lot of the characteristics of the companies are similar, but when it comes down to it the first few things we suggest figuring out is; whether you are doing a round trip or a one way trip, how many miles you will be driving, whether or not you are bringing camping supplies and where you are going. Once those gets figured out, use this guide to help determine which company matches your trip the best. Remember that roadside assistance and RV insurance are only included with some companies not all of them.
Choose to RV Rent by Owner or Company Rental
You can rent an RV through company rentals or rentals by owner. As expected, both of them are different and come with their own sets of pros and cons. Here is what to expect from RV rentals:
RV Rent by Owner
This category allows you to find the best RV rentals by owner that are close to you, so you can find something that you like and is not too far away. Such services are offered by Outdoorsy and RV Share.
Pros
It's easier to browse through listings without having to speak to salesmen or drive to the nearest dealership.
In case you're planning on renting RVs occasionally, services such as RV Share have a cash back program.
On Outdoorsy, for instance, the paperwork is easy, and all the money and work transfers are done by the renting platform. Therefore, you won't spend so much time worrying about your next journey's plan.
You get a $10,000-guarantee from RV Share if you book through the Share Payment System.
On Outdoorsy, you are able to use the peer to peer platform to get a feel for the right platform before you invest your money in an RV.
If you choose to upgrade from the standard policy on RV Share, you have an optional $1M insurance option.
Cons:
Some RVs are not pet-friendly, so it may be hard to take your beloved pet with you during the trip. It's better to check the reviews or talk to the RV owner about this before renting.
Sometimes, there are not many RVs available, as certain models may not be found in some areas.
The owner may take too long to answer your messages, as some usually change their mind about renting their RV but forget to remove the listing.
Company Rentals
Company rentals have a bigger team and multiple cars to choose from. Cruise America is such a company.
Pros:
You have a wide variety of vehicles to choose from, so it's much easier to find something that fits your needs.
The vehicles provided are usually good, so you can experience an amazing trip with a functional vehicle.
If you rent in advance, you may get a lower price.
Cons:
They may be very expensive, especially if you rent a vehicle last minute.
The vehicles may be good, but not always in excellent condition.
So, here are the 4 of the most trusted companies out there, to ensure that you enjoy your time in this temporary accommodation.